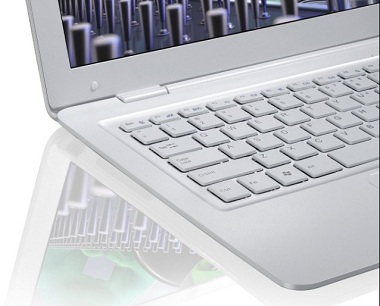 Apple's Macintosh laptops are not only the best in the market for its appearance. It is also the best for its efficiency and performance. Just take a glance at the product it is weightless, covered with thin aluminum sheets and has all the benefits of using a laptop. In fact it is the most ultraportable laptop that should have been used.
The MacBook Air unit is the most lightweight product in the market. It comes with a RAM of 2GB, 1,5GHz and of 120 GB of hard disk. These functions are enough for the basic working of a laptop and in fact more than necessary in most of the cases.
It has some of the great features like the battery backup. The battery backup is around more than 260 minutes which is really a great thing when compared with the light weight and the functionality of the computer. Moreover the OS is another plus point. The OS which is the snow leopard has all the best user friendly applications and also has the ability to incorporate any Apple product or application in the future.
With the launch of iPad there is another question, will the iPad replace the Macintosh? No, it will never replace the Macintosh. The computer and the iPad were created with two different reason and functions in mind, they literally serve other purposes and one cannot replace the other.
However, if you are too happy with the lightweight of the computer then I should reveal you something. The lightweight of the computer does come at a cost. It has no DVD/VCD drive. Yes, you must lose something to gain something. If you want Apple to make a literally light weight product then you will have to lose something in return. You cannot always expect the product to have all the features as you desire.
For Windows there is a treat. If you wish to use Windows in your MacBook Air then you can make use of the Bootcamp feature and install a Windows copy that you can purchase from the Apple store (Macintosh). Personally, I recommend you not to practice this as the effectiveness of the Air will be drastically compensated in the long run.